Prompt.io offers a real-time dashboard and metrics funnel view of your broadcast. This function is only available to Admins.
Use the three dot icon on the right of the list entry and "View Metrics"
View Metrics
This is a near real-time dashboard of the performance and status of your broadcast.
Funnel

Select a category and the contacts matching that criteria will be filtered below.
Delivery Statuses
In Send Queue (not pictured above) Messages that have not yet been sent by a staff member and are waiting in the Send Queue.
Delivered Messages that were delivered to a contact
Delivery Pending Messages that have been sent by a staff member but have not yet been delivered
Errors Messages where delivery was attempted but an error occurred (typically not a mobile number, etc)
Engagement Statuses
Replied A contact that replied to your broadcast
Conversed A contact replied to your broadcast AND a staff member followed up with a response. In other words, a conversation resulted from your broadcast message.
No Reponse The contact never replied
Opt Out The contact replied with a carrier keyword like STOP.
Tags Added
The fourth column counts tags that have been added to a contact as a result of a Broadcast message. In these cases, any new tags that are applied to a contact are incremented. Note that Macros actions that add tags will cause these stats to increment.
Examining a Contact
Select any contact record. The right side bar will expand and show you the conversational view and any associated data for that contact.
There are three tabs here:
Conversation will show the full history for this contact
Information displays data about the tags, lists, and such associated with the contact
Data Fields will display any associated key-value data as imported to this contact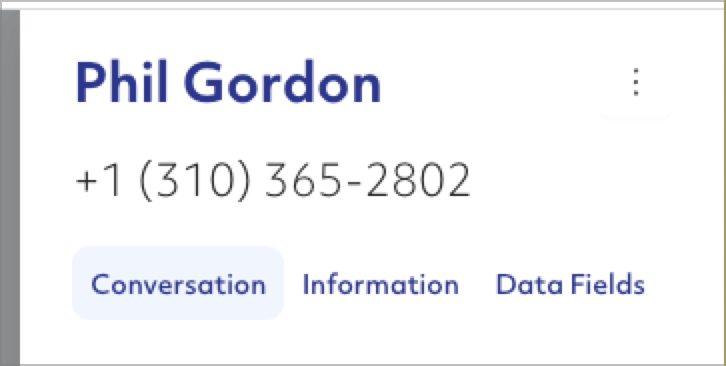 Click the three dot icon in the upper right to expose options for this contact that include the ability to open a new conversational window for this contact so that you can reply.
Exporting Metrics
The metrics can be exported to a CSV. Select a funnel category and click the "Export" button at the top right.